As signatories to the 2015 Paris Climate Agreement anticipate the announcement that the United States is withdrawing its support for the historic document, climate activist organizations are launching a grassroots campaign to pressure their elected representatives to #SavetheEPA.  
The Sierra CLub is test driving the Town Hall Project 2018 database to urge folks around the country to show up at a local town hall meetings to demand the EPA maintain a firm stance against the powerful coal, gas, and oil industry. 
This action, scheduled to coincide with the timing of a Congressional break when representatives are scheduled to be home in their districts, follows the successful appointment of Oklahoma Attorney General Scott Pruitt to head the US Environmental Protection Agency (EPA).
From refusing to release thousands of emails that would show the extent of his ties to the fossil fuel industry; to suing the EPA to stop climate, clean air and water safeguards; to ignoring pleas from Oklahomans suffering from nearby coal ash pollution or fracking-related earthquakes; to denying climate science and so much more – Pruitt demonstrated that he is the most dangerous person  to take the helm of the agency charged with protecting public health and the environment. Mary Anne Hitt,  director of the Sierra Club Beyond Coal Campaign.
The success of next week's call to action could lay the framework for a "We're all in" campaign "demanding that cities, states, universities, and businesses demand the administration maintain the country's commitment to the Paris targets.
It would appear that "We're all in" won't apply to many Fortune 500 companies who routinely support the opposition on environmental issues even as they adopt policies which reduce their carbon footprint, cut back on waste, and promote green energy.
Analyzing Why Won't American Business Push for Action on Climate?, Yale360 reporter Marc Gunther notes that in 2016, Google, Facebook, Microsoft, and Amazon donated more money to Republicans than Democrats. 
One of the dirty secrets that we have to live with is that even the good-guy corporations don't show up in Congress to lobby for doing something about climate change. Collectively, they do zero or less than zero to support climate legislation… That leaves the field to the bad guys." Senator Sheldon Whitehouse (D) Rhode Island 
But, writes Gunther, there is some good news here:
Since the election, Ceres, World Wildlife Fund, and a group called We Mean Business recruited a large number of small companies and a small number of large ones — Campbell Soup, DuPont, Gap, General Mills, HP, Intel, Kellogg, Johnson & Johnson, Mars, Mondelez, Monsanto, Staples, Starbucks, and Unilever, among them — to sign a letter asking the new administration to affirm its commitment to the Paris climate agreement. Yet without further action at the state or federal level, the U.S. will probably fall short of meeting the carbon pollution target that it agreed to in Paris, experts say.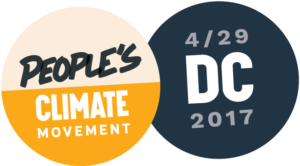 As world leaders express hope that July's G20 Summit could provide the framework to insure the sanctity of the Paris Agreement, civil society plans a second global People's Climate Mobilization April 29.
[title type="h2″]Actions[/title]