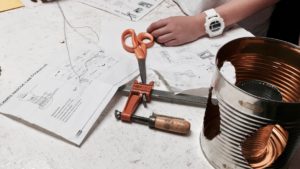 Downloads:
Infographics
Preparing and Using Biochar
Troubleshooting & Tips
Options
Cookstove Challenge Mini Lesson
Welcome to the 2017 Cookstove Challenge
Join cookstove test drivers from around the world in the Cookstove Challenge. This experimental learning experience will help determine if the 2050kids Biochar Cookstove project can be implemented in communities around the world which are most threatened by climate change.
The challenge engages participants in constructing the Climate Rescue Can Cookstove, a biochar-producing cookstove which captures carbon from the air and rejuvenates soils. The cookstove was designed by 2050kids advisor James Greyson and has been fine tuned for over a year for release via open sourced internationally accessible infographics.
Biochar is emerging as a vital tool to address food security and as a potential game changer in addressing climate change. Scientists have discovered that this charcoal, first used to enhance soil thousands of years ago in the Amazon, has the ability to store carbon in soil for thousands of years. When used correctly, biochar can also dramatically improve soils and food security globally in areas of the world hardest hit by climate change. As California emerges from a five year drought, biochar's ability to increase soil's resistance to drought is of vital importance in addressing regional food security. (Read more)
Let's Get Started!
The entire on site process of building a stove and conducting a burn takes about three hours. The more prepared you are, the more efficient the entire process will be.
Before you begin the build, determine what your fuel source will be and make sure it will be dry enough for a successful burn. (at least a week in advance)
Create a team of three or four
Download and become familiar with the infographics and accompanying materials
Gather the materials and tools (or find suitable substitutes) for your starter kit (page 2 and 6 of infographics)
,
Tips
Your local pizza parlor is probably the best source for #10 cans
Make sure your fuel sources are dry and will fit into the furnace
Read through the instructions with your team to determine ahead of time who will be building each part of the stove
The entire build and assemble process works best if each team member has their own copy of the instructions on hand
Share Your Findings
Share your experience on the building process!
Post videos and images on Instagram @2050kids using hashtag #Cookstovechallenge
Tweet about your progress to @205kidsorg
Like us and report on your build on our Facebook page.
Feedback
Help us to improve our approach by taking a few minutes to fill out these simple surveys and forwarding them to deborah@2050kids.org.
For more information or questions, contact deborah@2050kids.org.