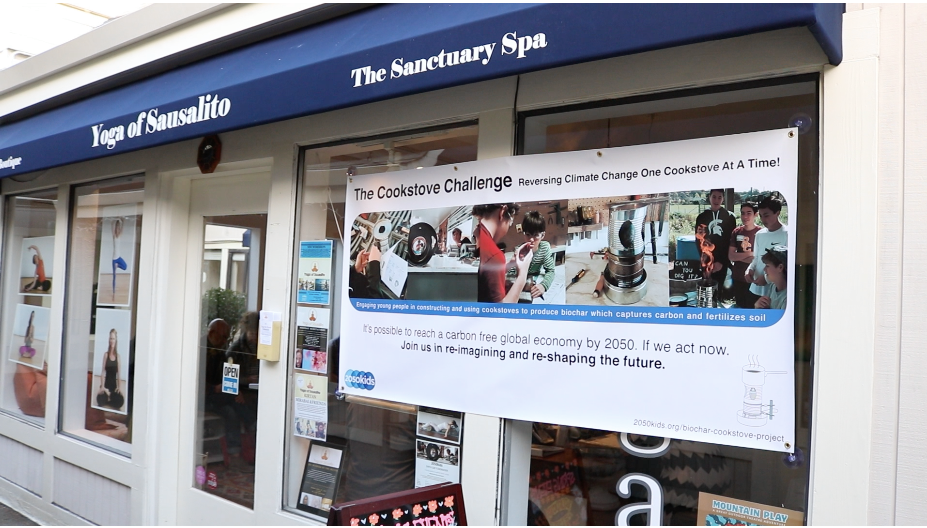 2050kids welcomed a wonderful community of supporters to our first fundraiser on Earth Day, April 22. Hosted by Yoga of Sausalito, the event was a celebratory success, with inspired young people talking about their experience building cookstoves, a moving vocal performance honoring the earth, and several local sponsors serving up tasty treats.
The evening kicked off a month long Generosity campaign to expand our inaugural project, The Cookstove Challenge, which teaches emerging climate activists about climate change, food security and the powerful properties of biochar.
The Challenge engages youth in constructing the Climate Rescue Can Cookstove, a stove crafted from recycled materials that puts the power to sequester carbon in the hands of the next generation. The project guides students through a four step process: preparing to build the cookstove, learning how climate change, food security and biochar are all connected and how we are part of a positive global movement, building and using the cookstove to produce biochar, and finally utilizing biochar in community gardens and seeing the results!
The fundraiser will allow for expanding the Cookstove Challenge in partnerships with Bay Area schools and nonprofit organizations, providing youth with the opportunity to become active in the fight against climate change while improving local food security and working to reverse climate change, one cookstove at a time.
Support the campaign today!