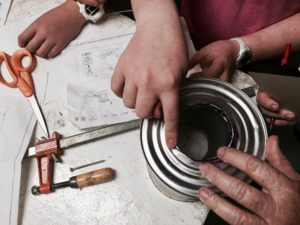 It's possible to reach a carbon free global economy by 2050. If we act now.
The community is coming together to combat climate change this Earth Day at a 2050kids fundraiser at Yoga of Sausalito. The 7-9 pm April 22 event features inspirational poetry, dance, and songs by local artists Kristi Williamson and Sandra Sears.
Money raised at this fundraiser will support 2050kids expansion of its inaugural project, the Cookstove Challenge, in partnerships with schools and nonprofits throughout the Bay Area. The Challenge engages young people in constructing and using cookstoves to produce biochar which sucks carbon from the air and stores it in fertile soil.
The evening will feature demonstrations of the cookstove as students from Sausalito's The New Village School share information about the stove and the important role biochar could play in reversing climate change.
Join in communal chanting, a short meditation, and enjoy organic foods and drink donated by local businesses.
Sign up for the evening here. Suggested donation: $20.