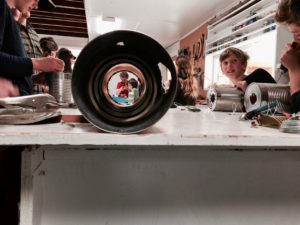 Emerging young Marin climate activists are incorporating Traditional Environmental Knowledge to produce an ancient soil amendment which sequesters carbon while increasing crop yields in their school and community gardens.
Students at the Marin City Conscious Kitchen Community Garden at Martin Luther King Academy and the Sausalito New Village School are participants in 2050kids Cookstove Challenge, using infographics to build a biochar producing cookstove. The Challenge will help determine if the project would work in communities around the world which are most threatened by climate change.
The stove is made from tin cans using basic hand tools and other simple materials and produces biochar, a type of charcoal first used by Native Americans as a soil amendment thousands of years ago. Scientists have discovered that this simple charcoal, if used correctly, has the ability to store harmful carbon for thousands of years.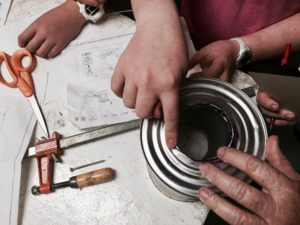 The infographics use universal symbols and images to guide individuals through the processes of building, assembling, and using the cookstove.
"We're working on this project from the perspective of helping and 'reclaiming' ancient practices rather than the 'pitch' or angle of doom and gloom of our future without remediation," says New Village School teacher Gabe Cohen.
The Cookstove Challenge began last fall with a cookoff between boy scouts from Elk Grove, CA. 2050kids plans to expand the challenge to other communities in the North and East Bay. They will be holding their first fundraiser on Earth Day, April 22 at Yoga of Sausalito.
Students at the Marin City location, who begin work on constructing cookstoves next week, last month prepared test garden plots with organic biochar compost donated by WM EarthCare Landscape Center in Novato. They will be planting tomato starters in both biochar and untreated beds to determine if the biochar compost impacts the growth and production of the plants.
[title type="h2″]Why Biochar? [/title]
By 2050, climate change from carbon emissions is expected to drastically alter the lives of some 9.7 billion people. In the decisions all of us make today, we need to find ways to reduce the levels of carbon in the atmosphere. This includes rethinking how we grow food, how we manage forests and farmlands, and even how we cook our meals.
Biochar could be a game changer in addressing climate change. Experts suggest that it has the potential to store one gigaton of carbon per year by 2050.