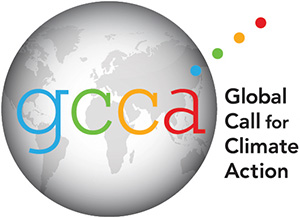 The GCCA is a diverse network of more than 450 nonprofit organizations in more than 70 countries with a shared goal — a world safe from runaway climate change. The GCCA harnesses the strengths of faith, development, science, environment, youth, labour, and other civil society organisations to mobilise citizens and galvanise public opinion in support of urgent climate action. We connect and facilitate the efforts of our partners; we communicate about climate challenges and solutions; and we help partners mobilise people in support of strong, equitable government action. GCCA partners endorse our Call to Action: Now is our moment, before climate disruption becomes irreversible, to stand up for the safety and wellbeing of people — at home and around the world. The solutions are available and the costs of inaction keep rising every year we delay. We call for:
Phase-out of fossil fuels and a just transition to clean, renewable energy;
Protection of our communities and forests, oceans and water resources;
Leaders to take immediate action to close the gap between current actions and investments and what's needed to secure our future;
Sufficient funding to support the communities suffering most from the impacts of climate change.
---

The Climate Mobilization is a new, all-volunteer organization. Our mission is to save civilization and the natural world from catastrophic climate disruption. We are dedicated to living in climate truth, and believe that working to solve the climate crisis is everyone's responsibility. – Join us. Sign the Pledge
---

MyWorld2015 – Have Your Say. You're part of a global vote at the United Nations, allowing people for the first time to have a direct say in shaping a better world.
The votes matter. The UN is working with governments everywhere to define the next global agenda to address extreme poverty and preserve the planet. The data from MY World continues to inform these processes and be used by decision makers around the world.
---