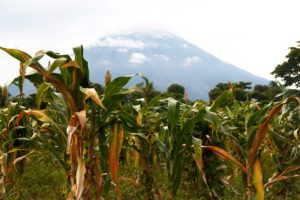 "We are hurtling towards a future where the gains being made for the world's children are threatened and their health, wellbeing, livelihoods and survival are compromised. Children will be most vulnerable to the catastrophic impacts of climate change, despite being least responsible for the causes. We need to listen to them and help them secure a future where they can survive and thrive." – David Bull, Executive Director, UNICEF UK
–
Disaster Risk Reduction (DRR)
Over 175 million children will be impacted by climate related disasters within the next decade.
As global warming increases the intensity and the frequency of extreme weather events, impacted communities around the world are investing in modifications to infrastructure, changes in agricultural systems, and revamping their economies, shifting to more sustainable means of livelihood. Emergency response capacity is being designed at the national, regional and local level.

In a recently published study for Nature Climate Change, scientists used twenty climate models to predict that the number of extreme weather events will double this century as increasing levels of green house gasses cause extreme El Niño occurrences.
El Niño events are a prominent feature of climate variability with global climatic impacts. The 1997/98 episode, often referred to as 'the climate event of the twentieth century and the 1982/83 extreme El Niño, featured a pronounced eastward extension of the west Pacific warm pool and development of atmospheric convection, and hence a huge rainfall increase, in the usually cold and dry equatorial eastern Pacific. Such a massive reorganization of atmospheric convection, which we define as an extreme El Niño, severely disrupted global weather patterns, affecting ecosystems, agriculture, tropical cyclones, drought, bushfires, floods and other extreme weather events worldwide. Potential future changes in such extreme El Niño occurrences could have profound socio-economic consequences.
Disaster Risk Reduction provides communities with toolkits and skills to anticipate and respond to 'natural' disasters. DRR efforts are most successful when they rely equally on the open sharing of information across all sectors of the global society and the incorporation of local knowledge and skills.
Youth can be active participants in DRR projects designed to:
Reduce the need for relocation through the promotion of local adaptation efforts
Improve community resilience in the areas of agriculture and food security and water and sanitation
Reduce the impact of climate change on global health issues as they impact local communities
The 11 countries most at risk of disaster-induced poverty are Bangladesh, Democratic Republic of the Congo, Ethiopia, Kenya, Madagascar, Nepal, Nigeria, Pakistan, South Sudan, Sudan and Uganda.